One of the most expensive gifts that you can give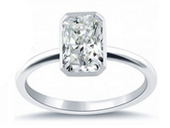 your girlfriend or wife this Valentine's Day is rings.
Although expensive, many guys still get rings for
their girlfriends because it is worth it.
If you are one of the guys who are looking for
Valentine's Day rings for your girlfriend,
then it is important that you know the different
designs of rings that are available in the market.
Celtic Rings
Celtic rings are gaining traction among many people because of its intricate designs and good craftsmanship. Celtic knots come with ancient decorative patterns that represent eternal love to your partner. Most Celtic rings do not come with gemstones but they make up for the intricate patterns that are found all over the ring. The intricacy of the pattern can also be customized depending on your preferences. By giving Celtic rings for Valentine's Day, your girlfriend will truly appreciate your effort.
Eternal Love Rings
An eternal love rings come with intricate designs similar with Celtic knots. However, they are made from rose gold which gives them the pinkish yellow hue which never fails to attract women. Eternal love rings are also studded with gemstones like diamonds thus making them a bit expensive than Celtic bands but if you really are genuine in showing your love to her, then there is nothing wrong about giving this particular ring to your girlfriend  despite  of its cost.
Solitary Rings
You can also give solitary rings to your girlfriend on Valentine's Day. The best thing about this type of ring is that they come with different designs to choose from. This is also a great ring to give to your girlfriend if you want to pop the big question to her on Valentine's Day.
Couple Rings
Another type of Valentine's Day rings that are popular during this special day are couple rings.
As the name implies, couple ring come in pairs so both you and your girlfriend will get to wear them.
When buying this type of ring, it is important that you look for rings that compliment your preferences.
Apparently, most guys are not into rings and if you buy couple rings, it is important that you
choose those that come with designs that you are comfortable wearing.
There are many types of rings that you can give her during Valentine's Day and choosing the right one is very important because rings can help you express your unspoken emotions to your special someone.