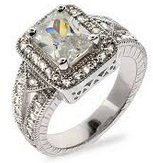 Many men turn to Antique Rings if they are planning to propose to their girlfriends. Antique Rings should be more than a hundred years old in order to be considered antique.
What makes them great Engagement Rings is that they come with higher quality of Diamonds and that their values appreciate a lot because of the intricate designs that make it difficult to replicate them.
Moreover, an antique ring is also favored for its rich historical value. Because of its many benefits, it is no wonder why this type of ring adds more character to a proposal.
On the other hand, if you are shopping for an antique ring for your girlfriend, here are some of the tips that you should know when buying this particular ring.
The most important thing that you need to do is to figure out what you want in your antique ring. This is very important because it allows you to set a budget for your antique rings.
There are some rings that are have inexpensive price tags but there are also other ones that are really expensive. It is important that you set your budget so that you will be able to buy a nice ring for your girlfriend without hurting your pocket.
When figuring out the kind of ring that you will give your girlfriend, it is important that you list down her notable characters as well as her preferences in jewelry. This will help you determine the type of ring that is appropriate for her. For instance, if she is a girl who likes doing outdoor activities, then finding antique rings that come with thicker bands and simple prong settings may be a great option.
If she is someone with a slender ring finger, then a thin antique ring with a solitary diamond on top will look great on her. By figuring out her characteristics and preferences, it will be easier for you to narrow down the kind of ring that will look good on her.
When buying antique rings, it is crucial that you get them from reliable jewelers. The jeweler should be able to show a certificate proving that your ring is antique and should offer other services such as cleaning services and insurance appraisals.
That way, you can be assured that your antique rings will last for a very long time.