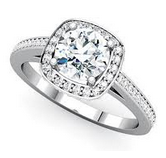 How to Shop for Wedding Rings Worry-Free
Shopping for wedding rings is really difficult for men because men have low tolerance when it comes to shopping for anything. What makes shopping for rings difficult is that it requires you to jump from one store to the other in order to find the perfect pair of rings that you can wear for the wedding. Although shopping for rings for your big day can be a daunting task, there is still a way for you to shop for them worry free.
Do Research
The most important thing that you can do to find the right wedding ring is to do research. When researching for wedding rings, it is crucial that you do not only look for the current trends of the design of rings but it is also important that your research include reputable jewelers where you can buy your rings. Doing research is very important because it saves you the time and trouble so that you do not need to jump from one jewelry store to the other.
Ask The Right Questions
Aside from doing research, it is important that you ask questions when you are shopping for wedding rings. As much as possible, you should ask a lot of questions specifically when you buy a wedding ring with diamonds. Asking the right question will help you decide on which wedding ring to buy. It is also a great way for you to get educated on something that you are not really familiar with. Another benefit of asking questions is that you will be able to gauge how knowledgeable your jeweler is. Remember that a knowledgeable jeweler is indispensable when it comes to buying excellent rings.
Determine If the Ring store Offers Additional Services
Your relationship with your jeweler does not end as soon as you buy wedding rings. It is therefore important to determine if your jeweler offers additional services like jewelry cleaning services, annual insurance appraisals and so on. Your wedding is one of the most important investments that you have as a couple so these services are necessary so that you can make these tiny symbols of your love last for a long time.
Buying wedding rings can be a daunting task for almost all men but if you know how to shop for one, you will be able to appreciate the true value of this small jewelry in your relationship without experiencing the humdrum of shopping.