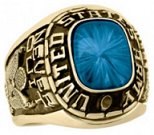 Military rings are great gifts that you can give to someone who has served in the army for a long time.
So if your dad or grandfather has already retired from the army, this is the best way for you to commemorate his efforts and sacrifices for the nation. If you give your beloved family members who have served in the military for a long time, you are actually honoring them for their great contribution to the nation. However, buying rings for military servicemen can be a challenging task and below are some of the tips on how to get this kind of commemorative ring.
Know Which Military Division The Recipient Belonged From
There are many types of rings that are dedicated to our military servicemen but it is important that you know which military division the recipient of the ring once belonged to. Did he come from the army, navy, marines or air force? Remember that each division has their own special design of rings. If, however, you do not know which military division the recipient once belonged to, you can buy the generic military ring which comes with a simple military logo and emblem on the top.
Know Which Type Of Material The Rings Are Made Of
Military rings are made from various materials from silver, gold to white gold. On the other hand, one of the most popular materials for this particular ring is stainless steel because of its clean and simple look which look good anyone. Moreover, rings made from stainless steel are also very durable and can withstand wear and tear thus they last for a long time. In fact, the recipient of the military ring need not remove the ring from his fingers when doing manual tasks.
Know Where To Get Them
One of the most important things that you need to consider when buying military rings is to know where to get them. It is crucial to take note that rings for military servicemen are not available in all jewelry stores so you have to look for one that specializes in making them. Fortunately, you can look online for jewelers that specialize in this type of ring as there are many online jeweler that offer rings for military servicemen all over the world.
Military rings are great gives to give to military servicemen and it is the best gifts to show that you commemorate and revere the sacrifices that they have made to make our nation peaceful.