With Valentine's Day just a few days from now,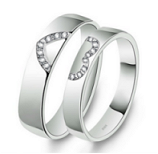 it is the perfect time to surprise your girlfriend
with a special gift to celebrate your love together.
It is common for guys to give rings to their
girlfriends during Valentine's Day. Apparently,
most men think that this day is intended for women
but what they do not realize that they are also
included in the celebration.
This is the reason why couple rings are also very popular during Valentine's Day.
Why Couple Rings?
Giving couple rings are a great idea especially if you haven't given her an engagement ring yet. This is a great symbol to show how much you love her and your future  commitment to spend your whole life with her someday. It will truly impress your girlfriend if you can get a couple rings for both of you to wear on Valentine's Day. It gives the impression that you value your relationship and that you are willing to embrace your sentimentality just to make her happy. For women, they find their boyfriends sexy if they are able to express their love to them without any inhibitions and couple rings can help you with that.
What To Look For In Couple Rings
There are many types of  couple rings that you can get her for Valentine's Day but it is important that you choose those that match your individual personalities. Although couple rings should celebrate your togetherness, it should also celebrate your  individuality. This is the reason why you should get couple rings that comes with designs that you both like.  Fortunately, there are many jewelers that offer different designs of couple rings. All you need to do is to look at their catalog but you can always opt to make your own ring based on your design if you do not see a ring that you fancy.
Another thing that you need to look for when buying couple rings for Valentine's Day is the material from which they are made from. Although women do not have any problems wearing rings made from yellow gold, men are more partial to rings made from silver, white gold and platinum. Your best option here is to buy rings made from white gold or platinum because they still look very elegant just like yellow gold.
Getting couple rings for Valentine's Day will surely give your girlfriend the biggest
surprise in her life and she will surely love wearing it all the time.