Valentine's Day is celebrated by many people all over the world.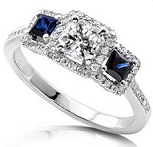 It is the day when men go out of their way to buy their special
ladies gifts that will signify their love for them.
If you are one of the many guys who are planning to give a special
engraved ring for Valentine's Day, then here are some of the
things that you need to consider when getting the ring.
Choose Your Words Carefully
As soon as you have already decided which ring to give your sweetheart, the next most
important thing that you need to consider is the words that you will have to engrave on your ring.
Remember that the ring tells a lot of things to your partner but if you want to give
her the right message, make sure that you choose your words carefully.
Saying a simple "I Love You" is sweet and simple but there are many people who think
that their sweethearts deserve more than these words. Moreover, ladies also dig
men who are very creative in expressing their words so instead of saying
your usual "I Love You", why not say something like "I have the world as
long as I have you" and it will surely make her swoon for you.
Now if your special lady also has a good sense of humor, you can also
have the words "Taken Permanently" engraved on the ring. This will not
only cause her to laugh but it will also flatter her completely.
Use Symbols Instead
Now if you are one of the guys who want to make a good impression to your sweetheart,
why not use romantic symbols engraved on your ring instead of words. The best thing
about having symbols engraved on the ring is that it will make the ring more mysterious
and alluring. For instance, instead of saying your usual "I Love You", you can
have the numbers "143" engraved on the ring. You can also use text symbols to engrave the ring.
This will not only make the ring modern but it also allows you to channel
your feelings that only both of you will understand.
Giving engraved rings during Valentine's Day is one of the best gift ideas
that you can give to your partner. However, make sure that you express your
message to her clearly so that she will be able to understand how she truly means to you.